We offer complete car care service from routine dealer recommended maintenance to complete diagnostics and full service auto repair. We know that our reputation is built "one customer at a time" and we appreciate your business.
Auto Repair Services You Can Count On!

Locally owned and operated for over 7 years. We offer comprehensive auto repair services designed to get you back on the road quickly and affordably.

Done Right. Period.
That's how we do things at Tuffy Tire & Auto Service Center. That's why only Tuffy offers a 2-year/24,000-mile guarantee on parts and labor you can take to any store. Plus, we offer a courtesy inspection with every Tuffy purchase. It covers tires, brakes, fluids, exhaust system, battery, belts and more. With every purchase, we even give you 24 free months of roadside assistance, too! We call it ToYourRESCUE. Our work will be DONE RIGHT. PERIOD. Or we'll fix it for free. Now, that's what you call Tuffy totally having your back!


Our shop services domestic and imported cars, trucks, and SUVs. We specialize in preventative maintenance services (oil changes, tire rotation, etc.) and we have highly qualified technicians for muffler and exhaust systems, internal engine repair services, electronic services, transmission work, and heating and cooling repair.
Looking for cost-effective alternatives to dealership services for manufacturer recommended maintenance for your car, van, SUV or truck? We can help with that, too.
We service all makes and models and we pride ourselves on the excellent skills of our service technicians.
We depend on our vehicles everyday, using them as as workhorses, limousines, cargo haulers and family transportation. Our day-to-day family life depends on our vehicles running smoothly. Tuffy is place to get the preventative maintenance and car repairs you need - without breaking the bank.
Tuffy Tire and Auto Service is dedicated to offering honest straightforward service who every customer who walks through the door.
A sense of community and a commitment to integrity drive us to make sure our customers, neighbors and friends receive the good quality auto repair and friendly, courteous service they deserve.
Tuffy shops are professionally staffed, and conveniently located - Tuffy is the place to treat the car that works so hard to the service it needs to keep your life cruising along.

Call today to schedule service or Click Here to book online.

We look forward to the opportunity to serve you.
402.393.2608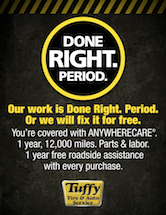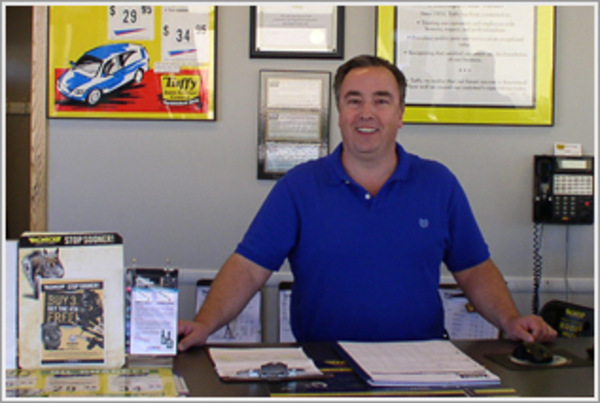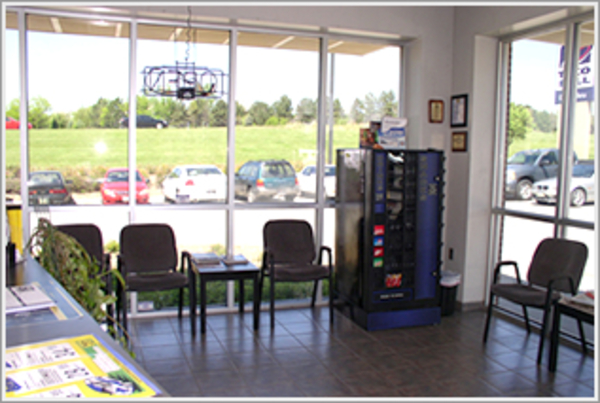 From around the Web
Tuffy Reviews
"I would like to give a special thanks to Dan for taking care of me on a short notice. Great guy and I am glad I reached out to him "

Dileep Govind

Aug 19, 2020 – Wahoo , NE
"I had my transmission serviced and my tires rotated. The staff is confident friendly and pricing is fair. Very pleased with the work and better yet how much it cost."

David Lehn

Jul 23, 2020 – Omaha, NE
"They always do great work. Dan is a pleasure to work with."

Terry R

May 18, 2020 – Omaha , NE
"I have been doing business with Tuffy for about 3 years. I always get good service. Price is reasonable and they always do what they can for me. Dan and Jason and all the other staff there are polite and eager to make things right when something goes wrong."

Jill B

Feb 13, 2020 – Omaha, NE
"Excellent service provided here. "

Erin B

Apr 12, 2019 – Omaha, NE
"I needed an oil change and walked in without an appointment. They got me in and their customer service was excellent! Will use again for all my oil changes. "

Traci P

Oct 07, 2016 – Wahoo, NE
"Always amazing and friendly service! "

Kelly L.

Jul 15, 2016 – Omaha, NE
"Very professional and prompt. I received a call shortly after I dropped off my car in regards to the repairs and estimate. My car was finished on time and below the estimated price. Thank you!!! "

Mary H.

May 03, 2016 – Omaha, NE
"Friendly, honest and very nice people to work with. The store manager was most helpful in solving a few of my on going problems-great advice! Will continue to take all care needs to this Tuffy location- very satisfied."

Cindy S

Jan 25, 2014 – Gretna, NE
"These guys are great honest and better than the dealers by over 30% on my Chevys Water Pump. Nice to see guys who get it. Keep up the good work! "

Jacob T

Feb 06, 2013 – Lincoln, NE
"I've taken my car in to Tuffy's several times for routine maintenance. Tuffy's has always treated me fairly and has not tried to up sell me on repairs. I would highly recommend Tuffy's! "

Nancy S

Dec 14, 2012 – Omaha, NE
"Had several superb experiences at Tuffys on Wright Street. Found them very honest and made recommendations that saved me repair dollars. Very honest. Performed repairs in timely manner and worked around my schedule. Customer-service driven. "

Kevin T

Dec 14, 2012 – Omaha, NE
"I took my car in to be serviced last week, and the mechanics immediately found a nail in my tire. My oil change and flat tire took 40 minutes to repair and I was on my way. I found the staff to be friendly and courteous. I would take any of my vehicles there. "

Brian G

Dec 14, 2012 – Elkhorn, NE
"Both the manager and staff have treated my wife well ever since we started going here more than a year ago for oil changes. They are helpful, honest and they don't mind that my kids being loud their waiting room. We've never had to wait longer than expected and the fellas inside are always kind. There is a reason we keep driving here for service instead of places a bit closer to home. A+ "

Corby B

Dec 14, 2012 – Omaha, NE
Show more